The city of Pripyat began to be built in 1970 as a satellite city of the Chernobyl nuclear power plant. Pripyat was originally planned as an exemplary city of superior comfort. Houses with better apartments, kindergartens, large spacious schools, a palace of culture, a stadium, a recreation park and much more were built here.
This wide avenue in Pripyat has turned into a forest. You can see the photo of Pripyat before the Chernobyl accident
Photo from the Chernobyl Museum in Kyiv – View of the central square along Lenin Street, Pripyat 1985
Now this place from the previous photo looks like this
Another photo from the Chernobyl Museum – Pripyat 1983, Kurchatov Street
Palace of Culture Energetic
Palace of Culture Energetic in 1985 – photo from the Chernobyl Museum in Kyiv
The palace of culture Energetic in August 2017
Inside the palace you can see the soviet murals on the walls
It was a gym in the Palace of Culture in Pripyat. The words "strong", "brave", "nimble" are written on the wall
Hotel Polissya
In the series "Chernobyl" of the HBO channel, the main characters – Valery Legasov, Boris Shcherbina, Ulyana Khomyuk live in this hotel.
Park of Culture and Leisure
Ferris wheel. The wheel was launched only in test mode, the official opening was scheduled for May 1, 1986. No one has ever ridden on it.
Everyone's favorite cars in Soviet childhood. Always had to queue for 20 minutes.
Stadium in Pripyat
This was the stadium track, now it is a forest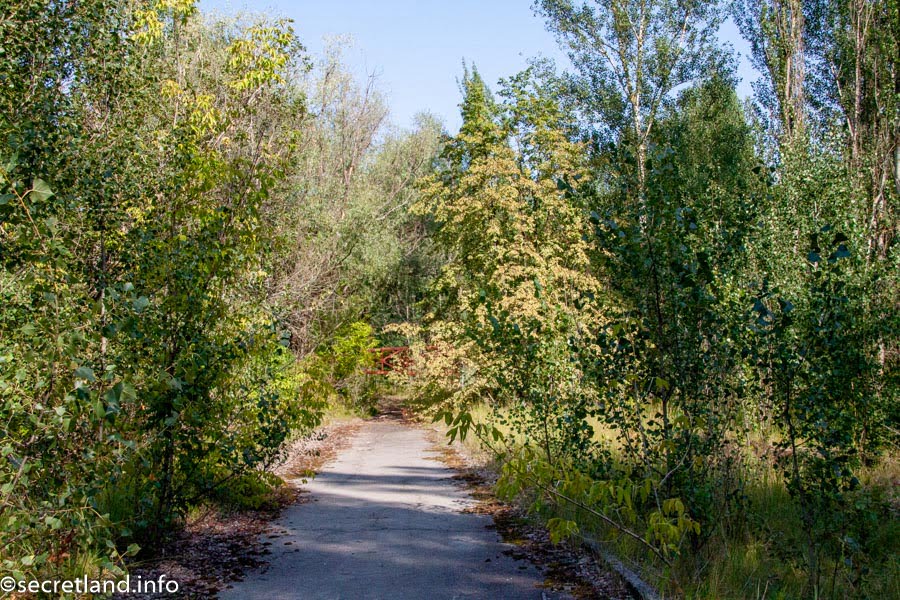 Tribunes of the stadium in Pripyat
The houses are barely visible among the trees. Once upon a time there was a street, cars drove along it
Everywhere in Pripyat you can see ghostly high-rise buildings. We climbed onto the roof of one of them and entered the apartments. Read about it here.
Kindergarten in Pripyat
This is a kindergarten in Pripyat. Kindergartens in Pripyat were larger than the standard project. There were 15 kindergartens for 50 thousand people. And even with so many kindergartens, there were not enough places – there were a lot of children in Pripyat.
Someone 34 years ago forgot their sandals
A room in an abandoned kindergarten in Pripyat
Some boys built these towers from a constructor 34 years ago, now the towers are totally rusted
An empty information board for parents will never again be filled with children's drawings.
Chornobyl zone