Museum of Miniatures "Ukraine in Miniature" is located in Kyiv in Hydropark. If you are coming from the left bank, you will see a large stand and a sign to the miniature park. There is a small parking area at the entrance. Museum of Miniatures "Ukraine in Miniature" has near 80 objects in its collection.
Opening hours in 2023:
From March 1 to October 1 museum works from 10:00 to 19:00
Saturday, Sunday and Public holidays museum works from 10:00 to 20:00
From October 1 to March 1 museum works from 10:00 to 17:00
Ticket price in 2023:
adult 150 UAH
children from 3 to 12 years old 100 UAH
children under 3 years old – free
Let's take a walk in the park. I did not photograph all the miniatures, but only those that were of interest to me personally.
Sights of Kyiv in miniature
This is St. Andrew's Church in Kyiv, located on Andriivskyi Descent.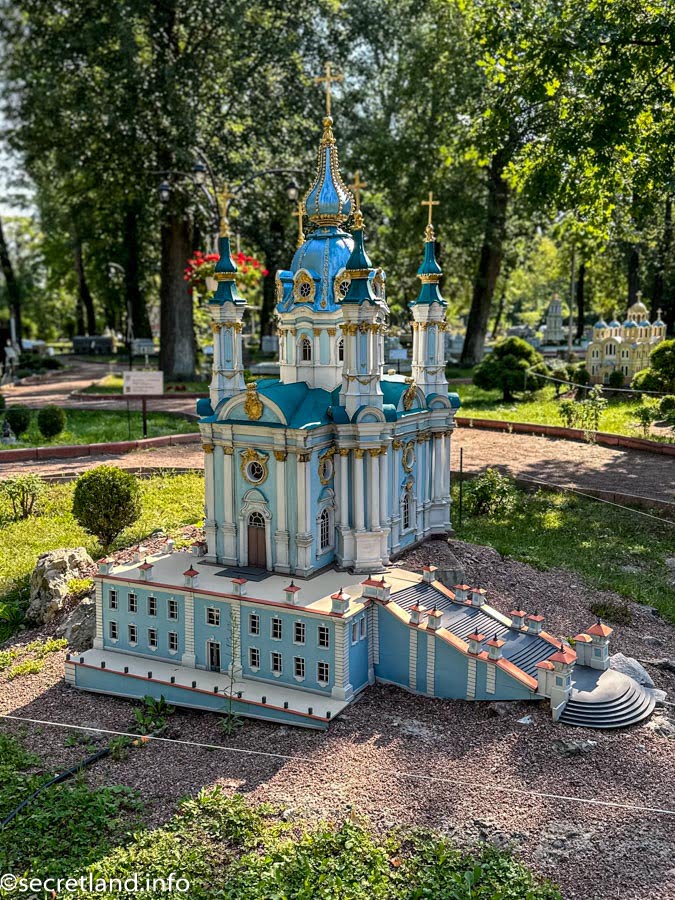 This is The Pokrovsky Nunnery, which is located in Kyiv on Lukyanovka.
Khreshchatyk and Maidan Nezalezhnosti (Independence Square)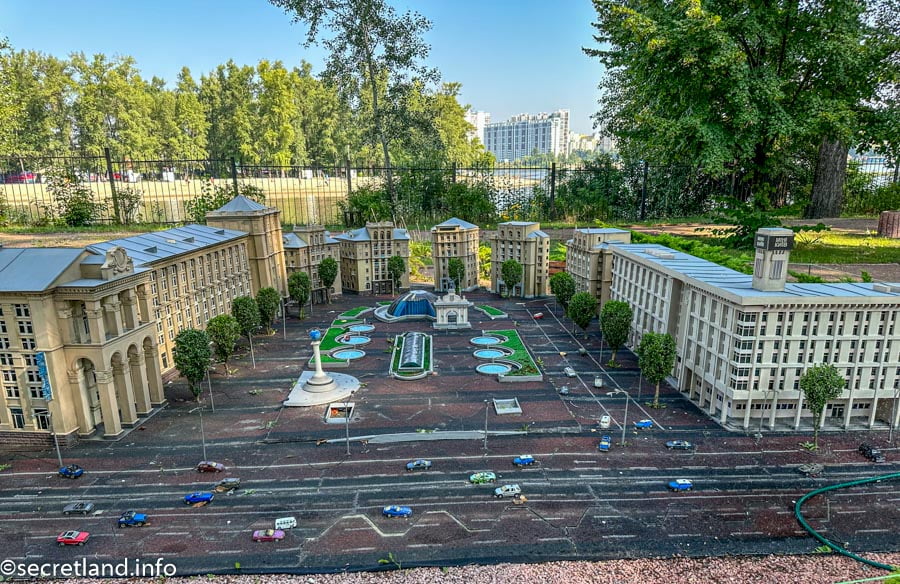 The Independence Monument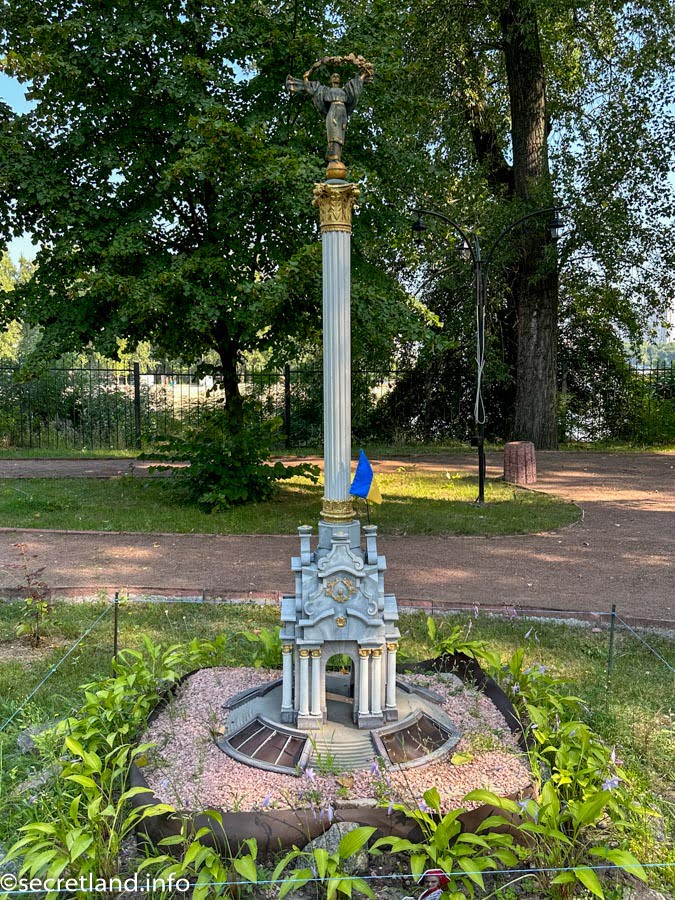 The Puppet Theater in Kyiv is located in Khreshchaty Park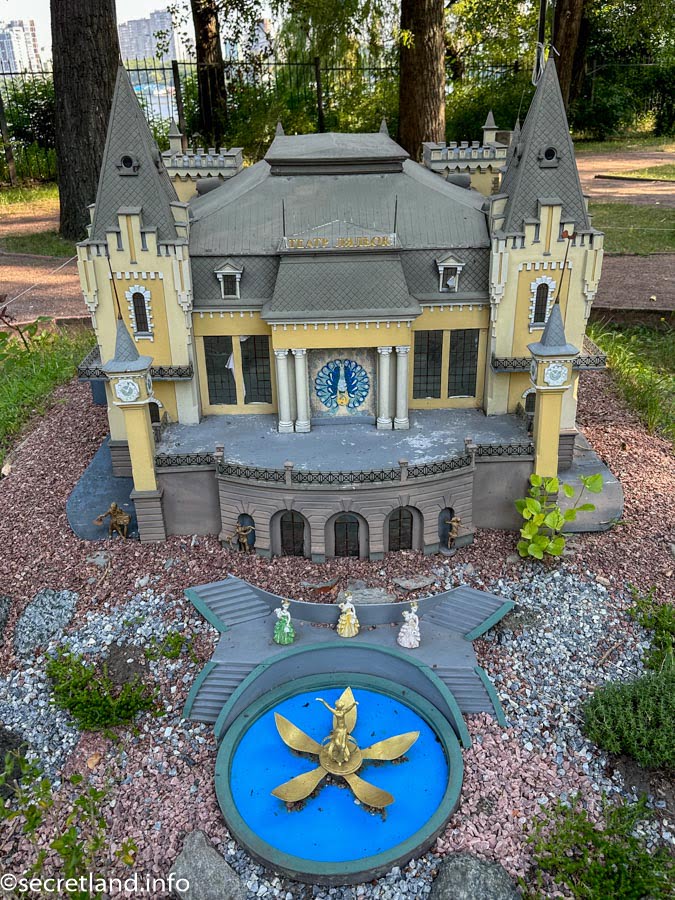 The building of the National Bank of Ukraine is located in Kyiv on Institutskaya Street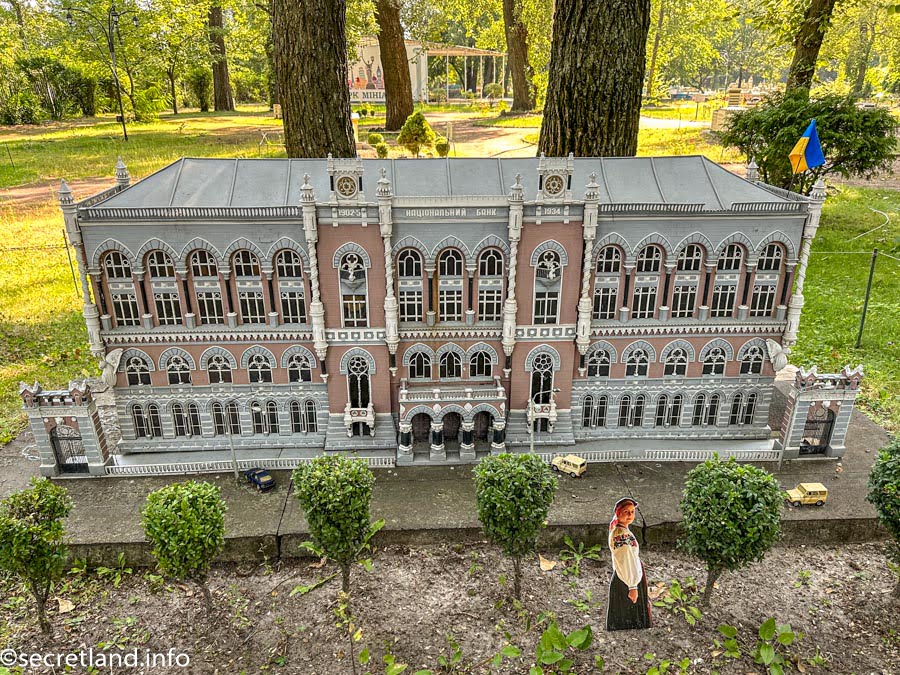 The October Palace, a former institute for noble maidens, was built in 1842 by architect Vincent Beretti. It is located in Kyiv on Nebesnaya Sotna Alley.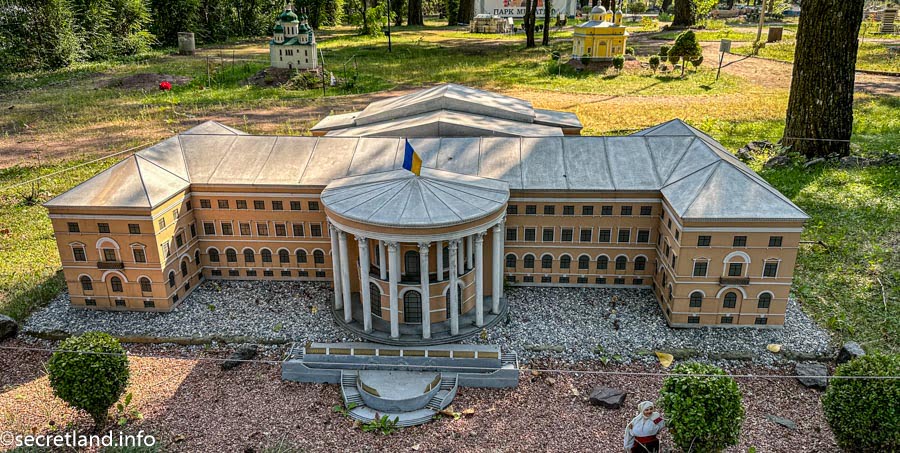 St. Cyril's Church, a temple built in the 12th century. The original frescoes have been preserved in the church. The church is located on Elena Teliha Street, 12 in Kyiv.
Roman Catholic Church of St. Alexander, located in Kyiv on Kostelnaya Street, built in 1842, architects Franz Mechovich and Ludwig Stanzani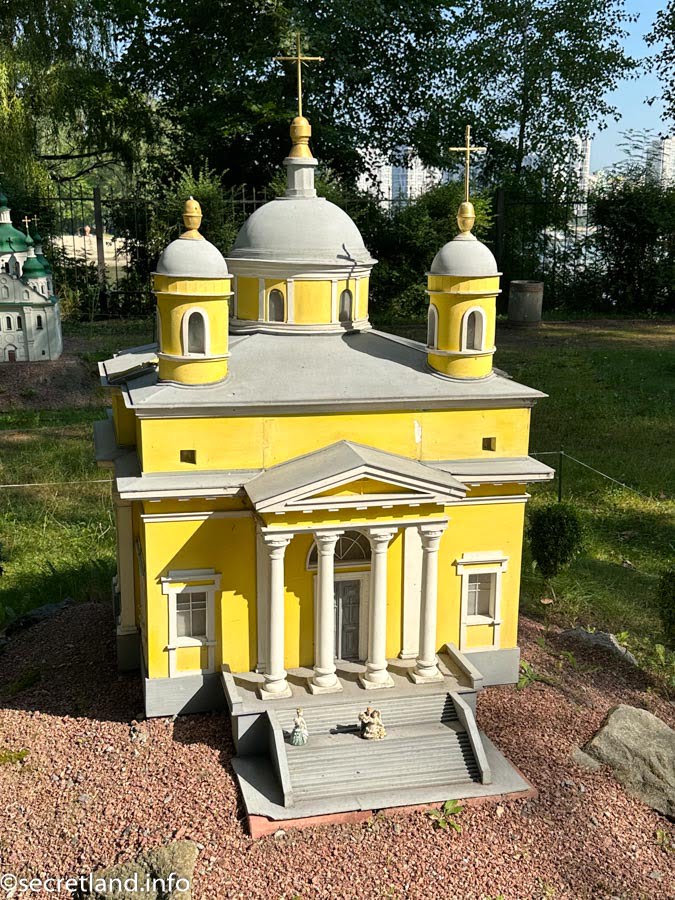 National Opera of Ukraine, located on Volodymyrska street, 50
Airport Kyiv (Zhulyany)
St. Panteleimon Cathedral, located in Kyiv in Feofaniya park
Kyiv railway station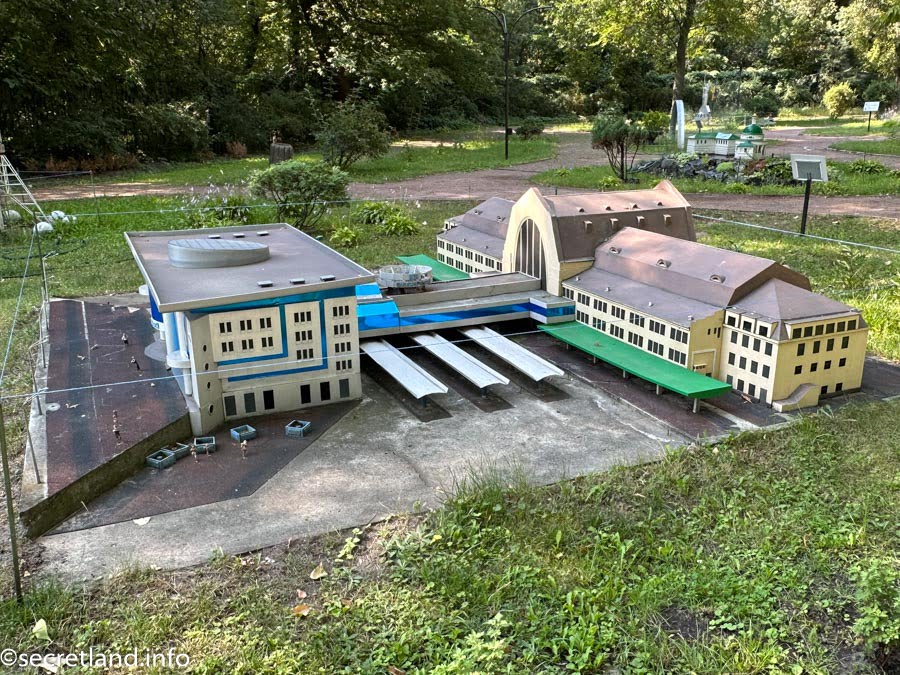 Kyiv TV tower on Dorohozhichy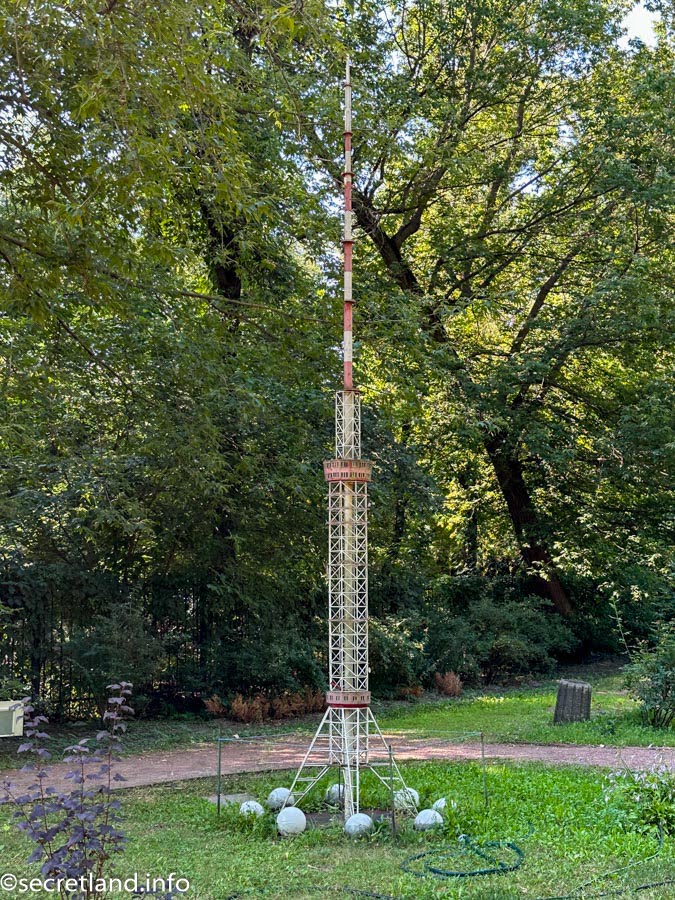 Church of the Resurrection of the Florovsky Monastery on Podil
Karaim Kenassa, Yaroslavov Val Street, architect Vladislav Gorodetsky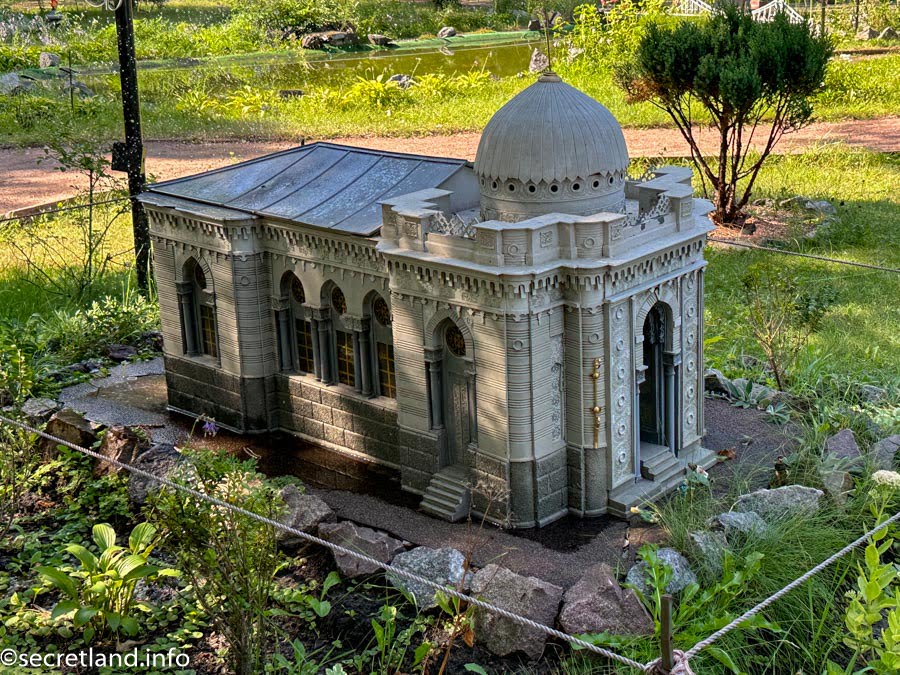 House of Vladislav Gorodetsky, "House with Chimeras"
Brodsky synagogue, Shota Rustaveli street
Ukrainian Motherland Monument
The Cathedral of the Resurrection of Christ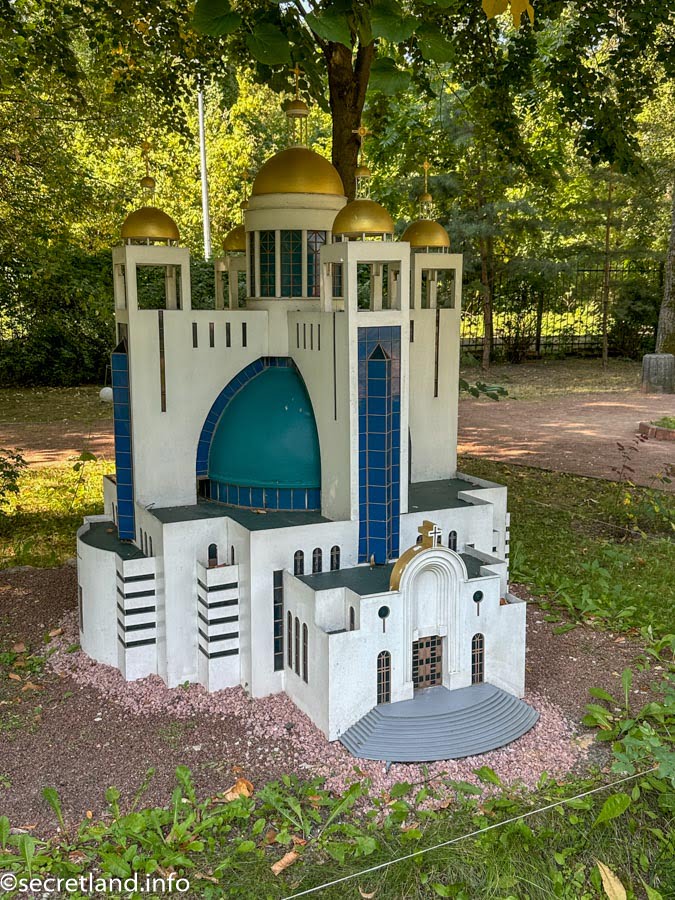 Mosque Ar-Rahma, Lukyanovskaya street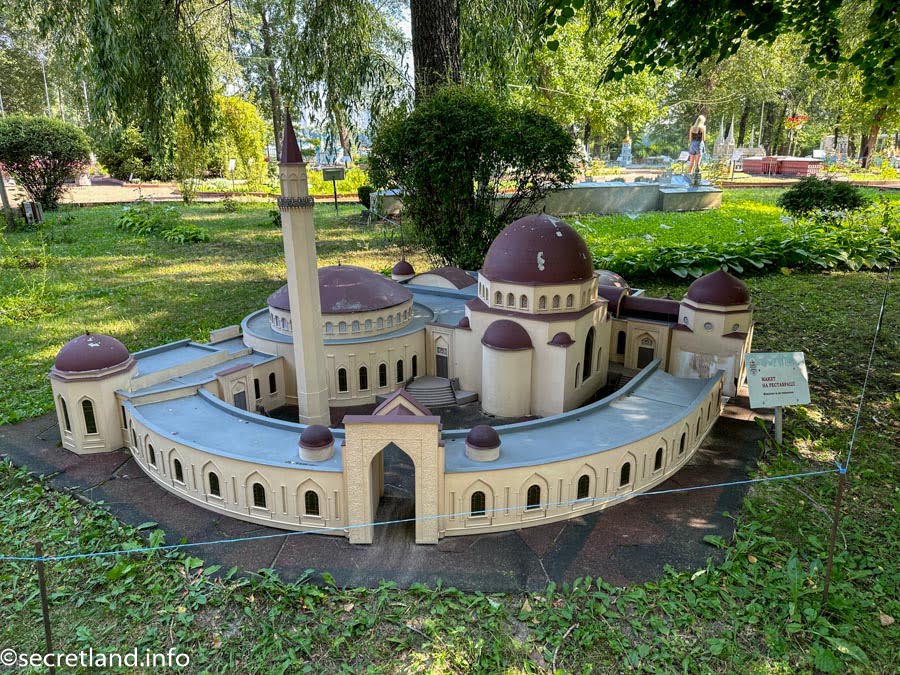 Igor Sikorsky Kyiv Polytechnic Institute
Main building of Taras Shevchenko University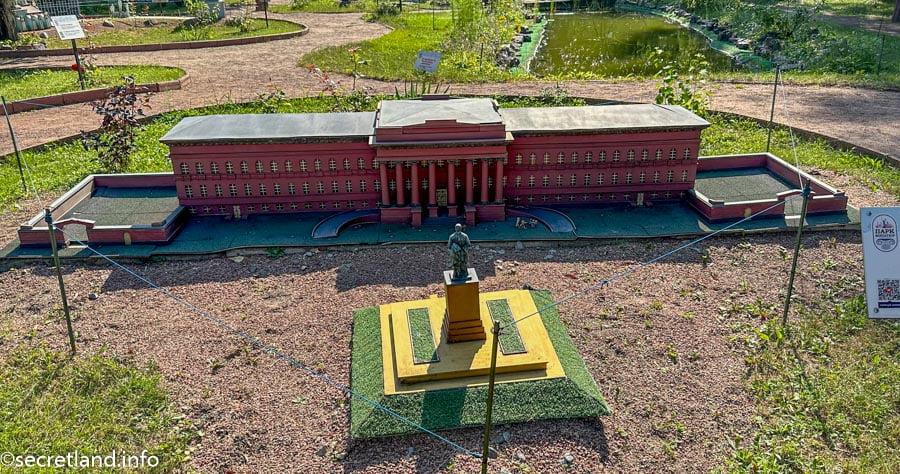 Nicholas Church, Velyka Vasylkivska Street
Mariinsky Palace – read more about palace here
The view of the Mariinsky Palace with outbuildings
Sights of Crimea in miniature
Vorontsov Palace, Alupka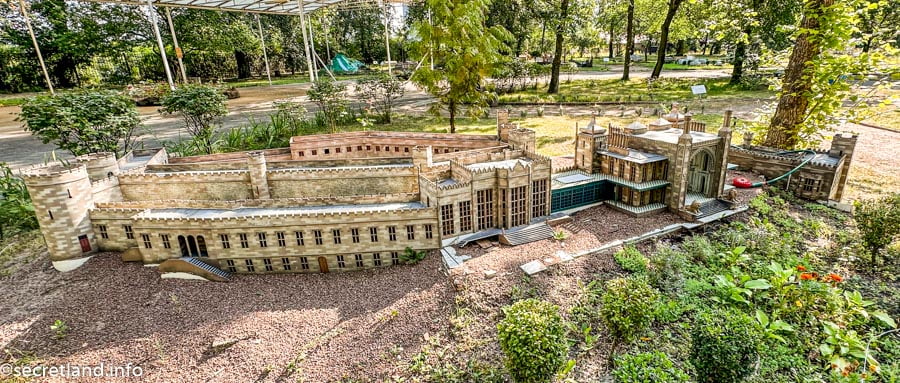 Livadia Palace, Livadia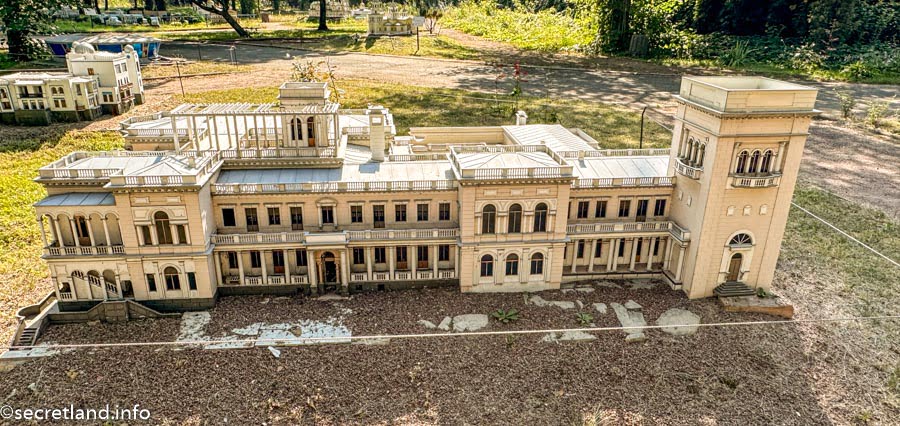 Dulber Palace, Koreiz
Palace Swallow's Nest
Sights of Lviv and Lviv region in miniature
Olesko Castle, it can also be seen in the Museum of Miniatures "Castles of Ukraine" in Kamyanets-Podilskyi, and it looks better there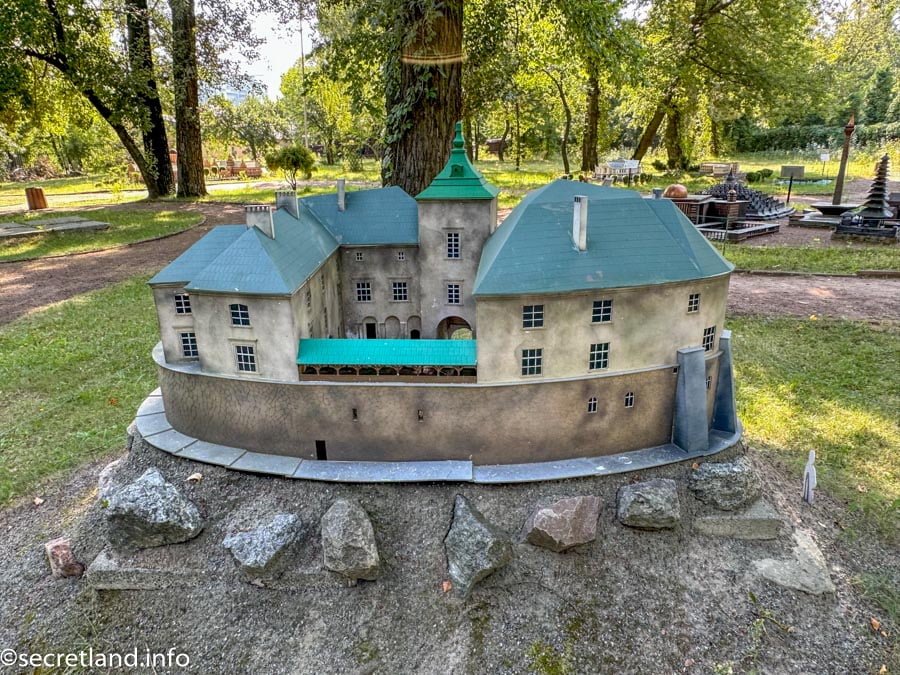 Olesko Castle in the Museum of Miniatures "Castles of Ukraine"
These are two palaces from the Zolochiv castle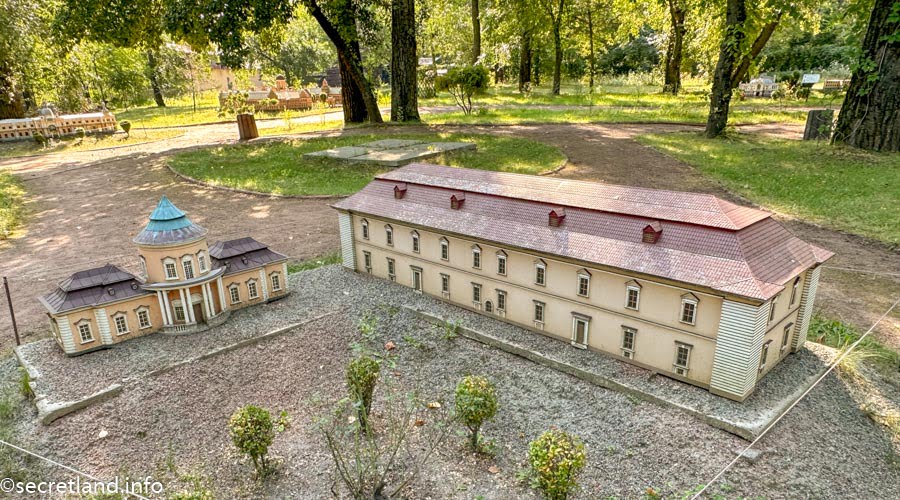 A miniature of the Zolochiv castle in the museum in Kamenetz-Podolsky. Here the castle is presented along with bastions and fortifications.
Town Hall in Lviv
Church of St. George in Lviv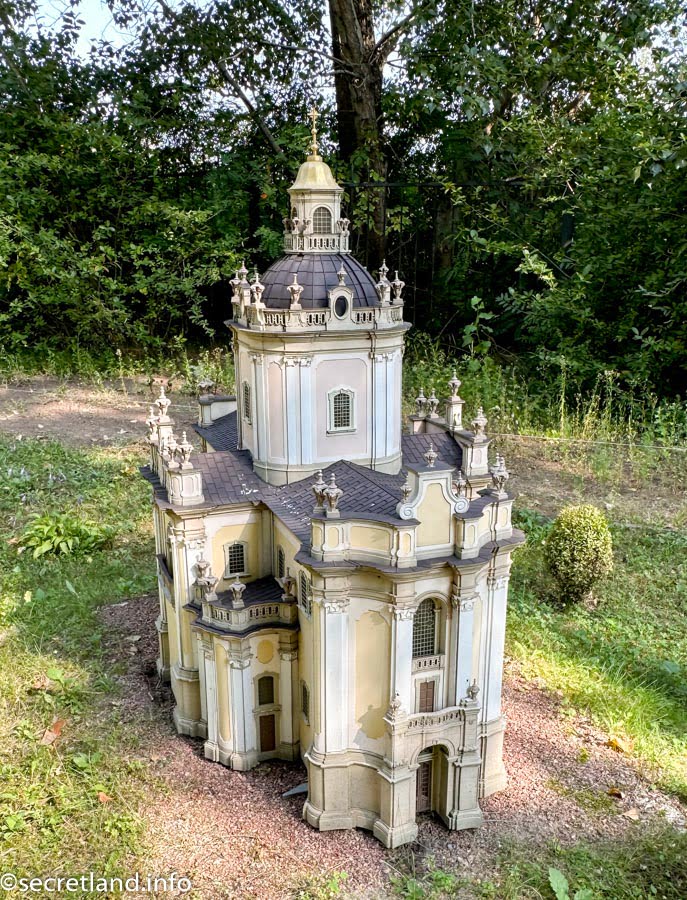 Lviv railway station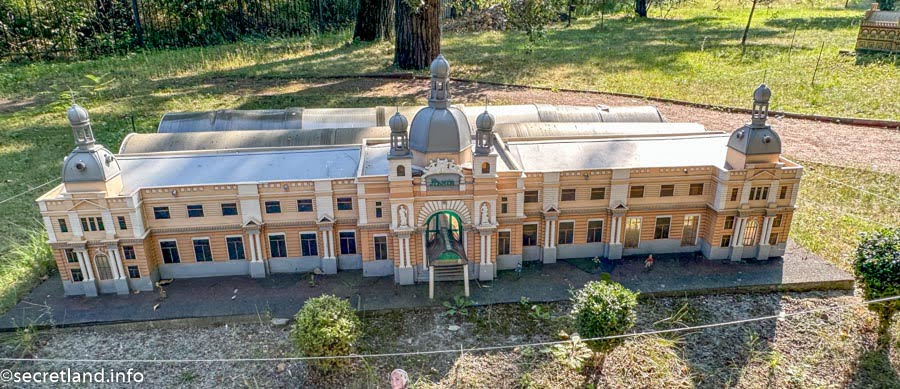 Other sights of Ukraine in miniature
Chernivtsi University – the former residence of the metropolitans

Odessa theater
Duke de Richelieu Square in Odessa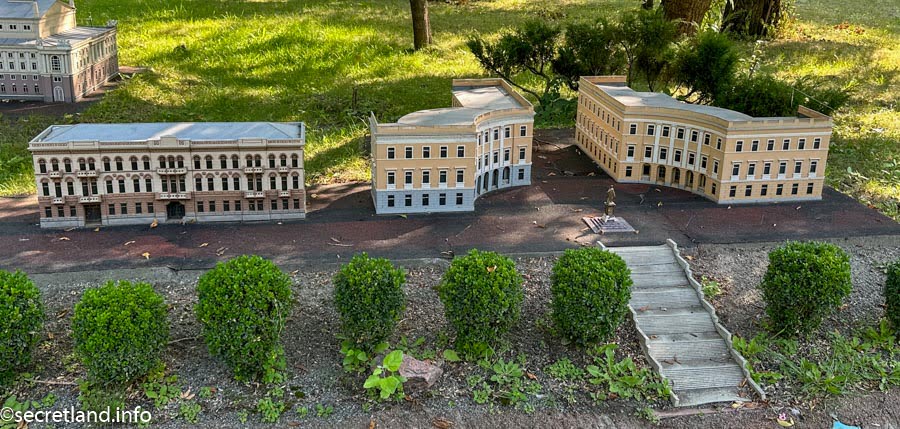 Pochaev Lavra, Ternopil region
Transfiguration Cathedral, Chernihiv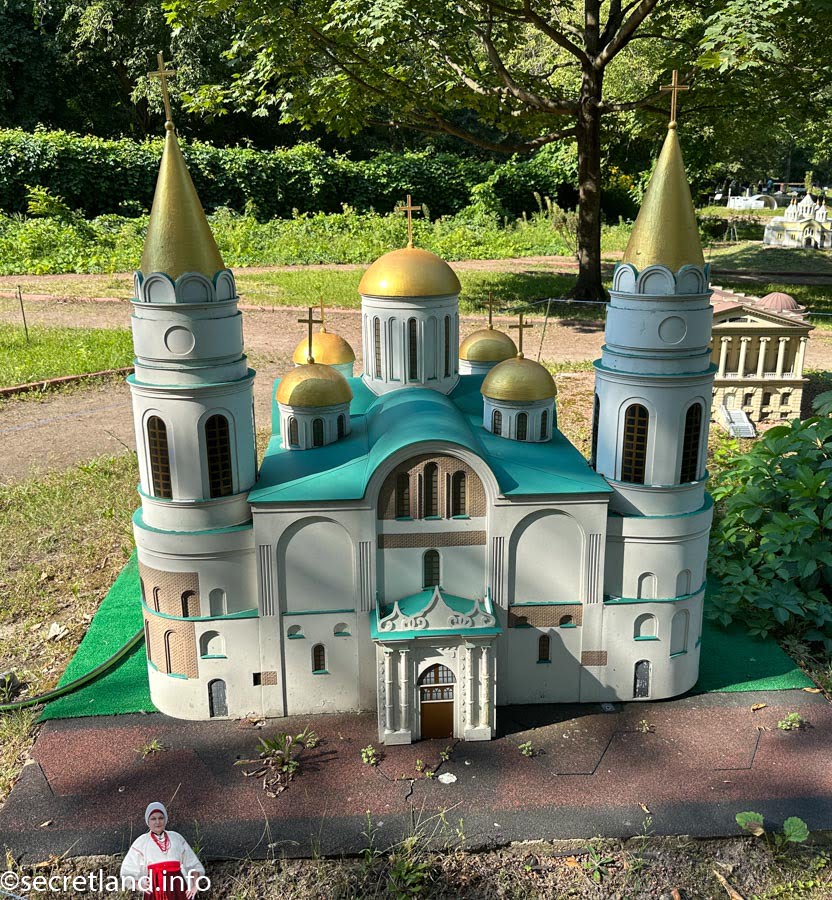 Manor Kachanivka, Chernihiv region
Palace of Kirill Razumovsky in Baturin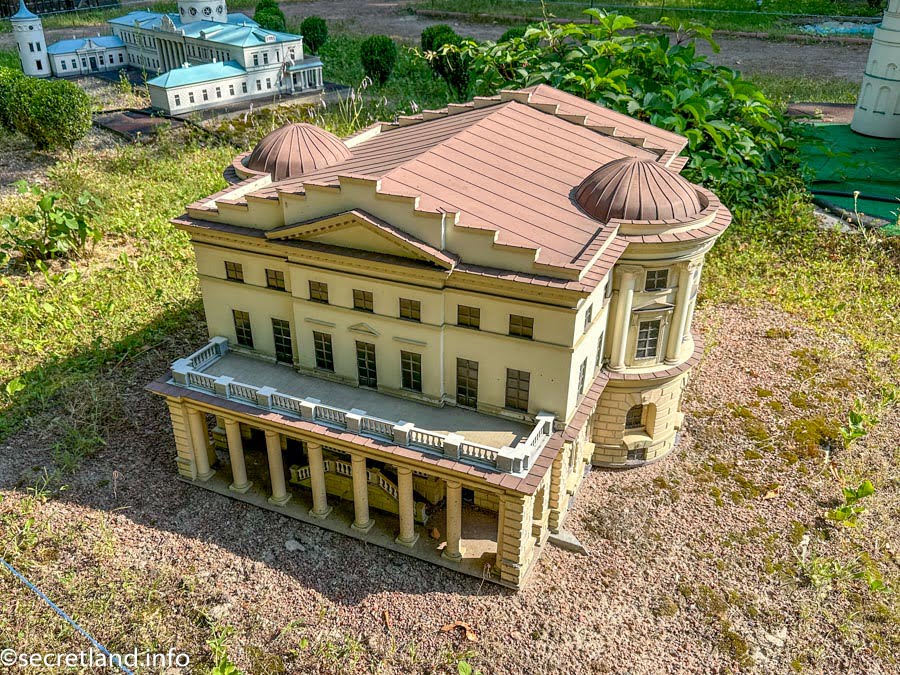 Holy Transfiguration Cathedral in Zhytomyr
Chernobyl nuclear power plant
Landmarks of Indonesia in miniature
In the middle of the miniature park there is a platform where bronze miniatures of Indonesian sights are exhibited. These miniatures were installed in the park in 2017 with the support of the Indonesian Embassy
This temple is Borobudur, located in the city of Magelang.
Jakarta Cathedral – Gereja Santa Maria Diangkat ke Surga
Monas National Monument
Temple Pura Ulun Danu Bratan, Bali
Istiqlal Mosque, Jakarta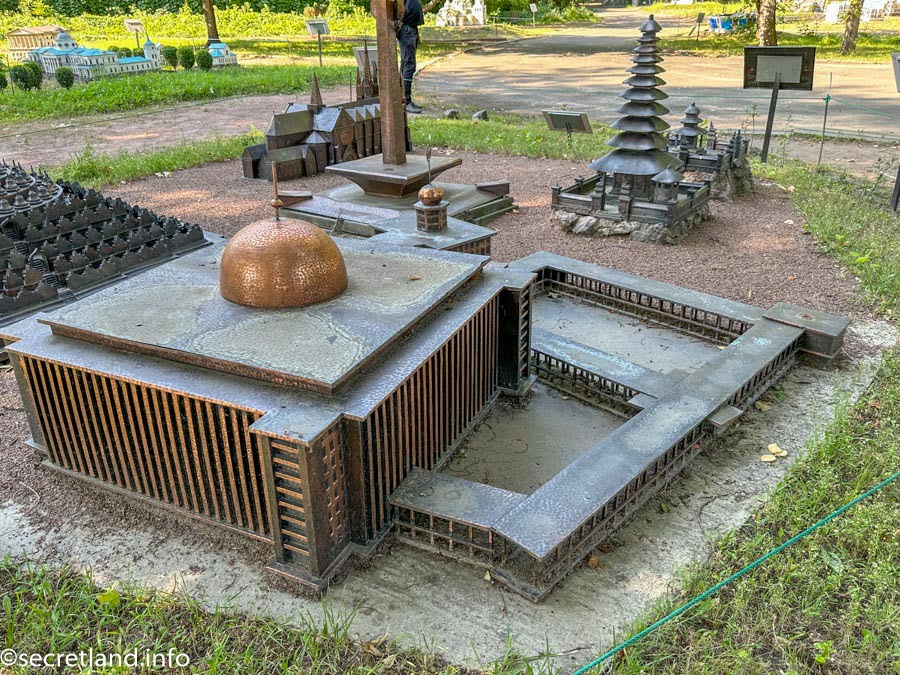 May also interest you: